Do you miss your faraway friends or relatives? There are endless ways to connect with them these days. You can drop them text messages, communicate via email, and do chat on social media. However, what would you prefer if getting the chance to do something special for them? You would have often gifted or heard about lovely Holiday Cards.
Generally, sending Holiday Card to your friends and known's is a unique way to communicate with them. Through Holiday Card, you can wish them in a personalized way, express your feelings, and let them know how much you miss and care for them. To help you choose beautiful Holiday Card and surprise your loved ones, we have put some information about the best places from where you can shop Holiday Cards online.
Know about Best Places to Buy Holiday Cards Online!!
#1. Minted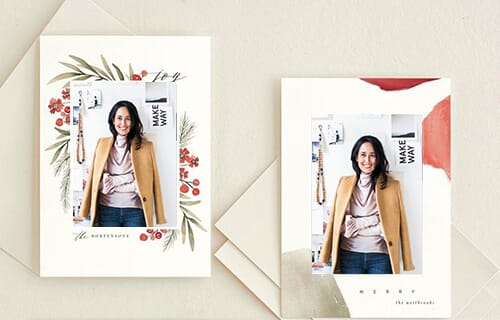 It offers a wide range of Holiday Cards that independent and professional artists design. They have several collections of stunning cards that you can customize with photos and text. There are different filters at Minted to choose your best Holiday Card for New Year, Christmas, Good Friday, and other celebration cards. In addition to this, you can navigate many designs and patterns and select whatever you like. Moreover, they provide free envelopes with the receiver's address. The prices may be a bit high. However, it may cost you less if you buy in good quantity. Overall, you will find unique and sophisticated collections at Minted.
#2. Shutterfly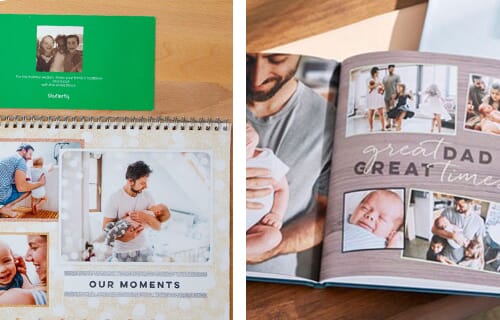 Do you wish to create special memories using your photos on Holiday Cards? Shutterfly is a perfect platform that has extensive variety of Holiday Cards in different categories. There you will get a ton of options that are even easy to customize. You can filter the Holiday Card by themes, several pictures, and sentiments that you wish to convey at Shutterfly. Moreover, they provide folded, trip fold, gate, and flat card options as per your choice to make Holiday Card simple or complex. Shutterfly Coupons
#3. Etsy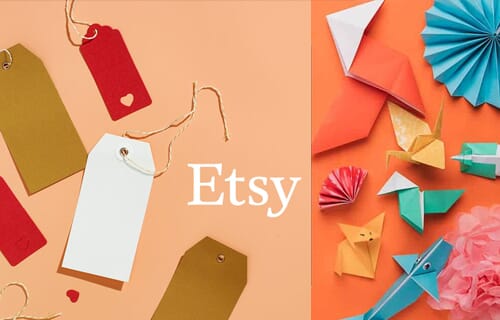 If looking for quirky with bright designs and minimalist scripts, Etsy's Holiday Cards never disappoints you. Etsy is primarily known for its crafts and homemade products, under which beautiful homemade feel like Holiday Card come. You can find a vast collection of cards at Etsy that you can even customize to classic and funny designs. They offer an epic collection of Holiday Card suitable for family and friends. In addition to this, you will find social distancing and other latest graphic designs on cards.
#5. Moo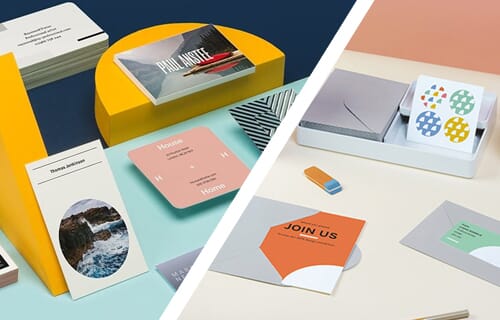 Generally, Moo is special in custom designs of business printing. However, they offer a lovely collection of Holiday Cards too. Moo is a perfect platform that meets your simple yet chic need of Holiday Card that you can get customized to add a personal touch. Moreover, you can begin with a blank template to create an inspiring one. Recently, the company prints millions of Holiday Cards each month and has millions of customers across 190 countries.
#6. Amazon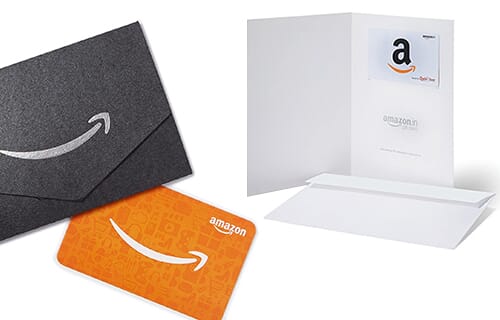 You will surely love the Holiday Cards at Amazon. This online store offers a substantial collection of cards for many holidays. At Amazon, you can find unique selections of Holiday Cards, including Pet Holiday, Hanukkah, Thanksgiving Day, New Year, Christmas, etc. Moreover, their Holiday Card are made in the US. It offers the cards at minimal possible prices. You can get free shipping of cards from them if the order is over $15. However, the prime members get free shipping of cards without conditions.
#7. Paper Source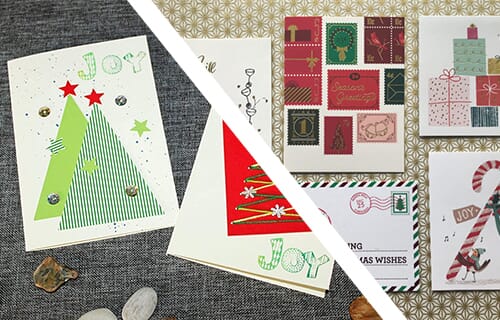 The designs you find on Paper Source are super charming. Paper Source has a top-notch Holiday Cards collection. One can find an amazing range of New Year, Christmas, and many more occasional Holiday Cards at Paper Source with several designs and quotations. Moreover, you can build your own quotes or messages. Their prices are less, and they also offer customization.
#8. Paper Culture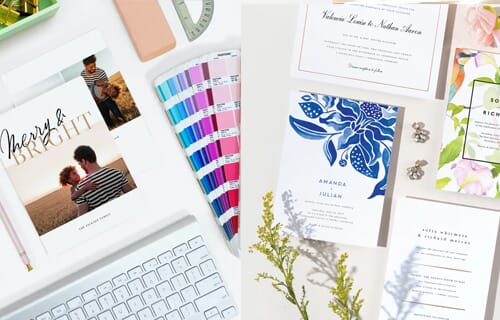 Find an exceptional and latest variety of well-designed Holiday Cards at Paper Culture. The company makes environment-friendly cards. They plant a tree for every purchase made. Paper Culture does not only offer the Holiday Card at an affordable price but also commits to its quality and unique designs. Besides, the more you will shop, the lesser the cost would be. In addition to this, the website of Paper Culture helps you get designer assistance. This way, you can design your own cards with perfection.
#9. World Market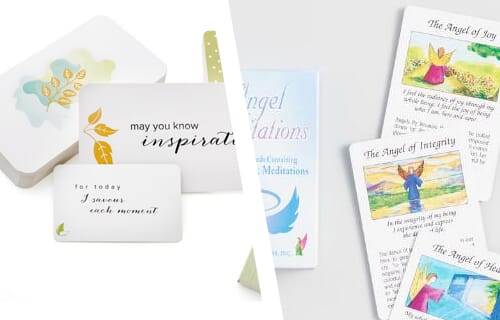 Head to the World Market to purchase from fantastic collections of Holiday Cards. You will find a wide variety of cards on this platform, which you can choose with different filters. This is also a great place to shop cards if you want them within budget or at fewer prices. You can choose from a variety of card box sets, decent cards, funny cards, picture cards, and many more patterns. Their Holiday Cards are uniquely designed.
#10. Mixbook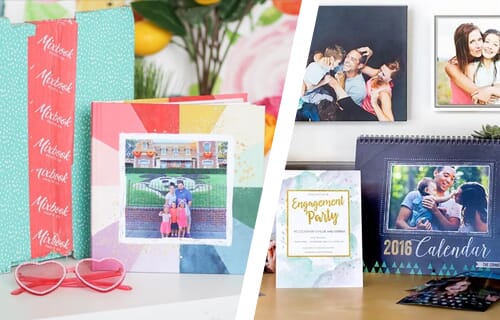 Feel completely happy with your Holiday Cards shopping from Mixbook. Its site is design-friendly, which makes it convenient for you to look for a card that will suit you perfectly. They have hundreds of unique designed cards to choose from. The gallery of Mixbook is full of adorable Holiday Cards designs. Hence, it is easy to find what fits your preference. Moreover, you can customize the paper finishing, design and even add your preferred photos and messages to the cards. In addition to this, they ship Holiday Card within 1-2 business days. visit here: Mixbook Coupon
#11. Walgreens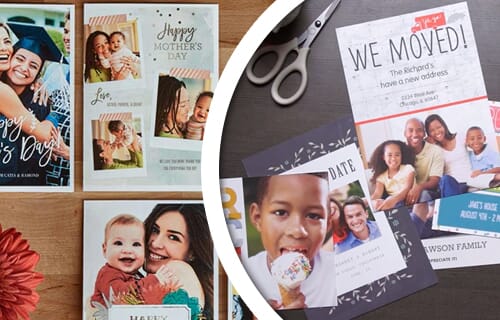 Choose Walgreens for your beautiful Holiday Cards. Get them at the best and affordable prices at this online store. They offer almost 2,000 Holiday Cards, which you can choose by applying different filters. You will find the collections unique and finely designed. Besides, you can customize and even choose from other paper options. Many of the cards are even available for same-day pick-up from nearby stores.
As per the best of our knowledge, we have covered the best places where you can shop Holiday Card at affordable prices online. Furthermore, we suggest checking the collections of Holiday Cards at Target, Tiny Prints, and The Gallery Collections stores.